APPPAH Live: Beyond Bonding: The Science of Babywearing with Joanna McNeilly, CBE, CLC, CKCP
September 19 @ 12:00 PM

-

1:00 PM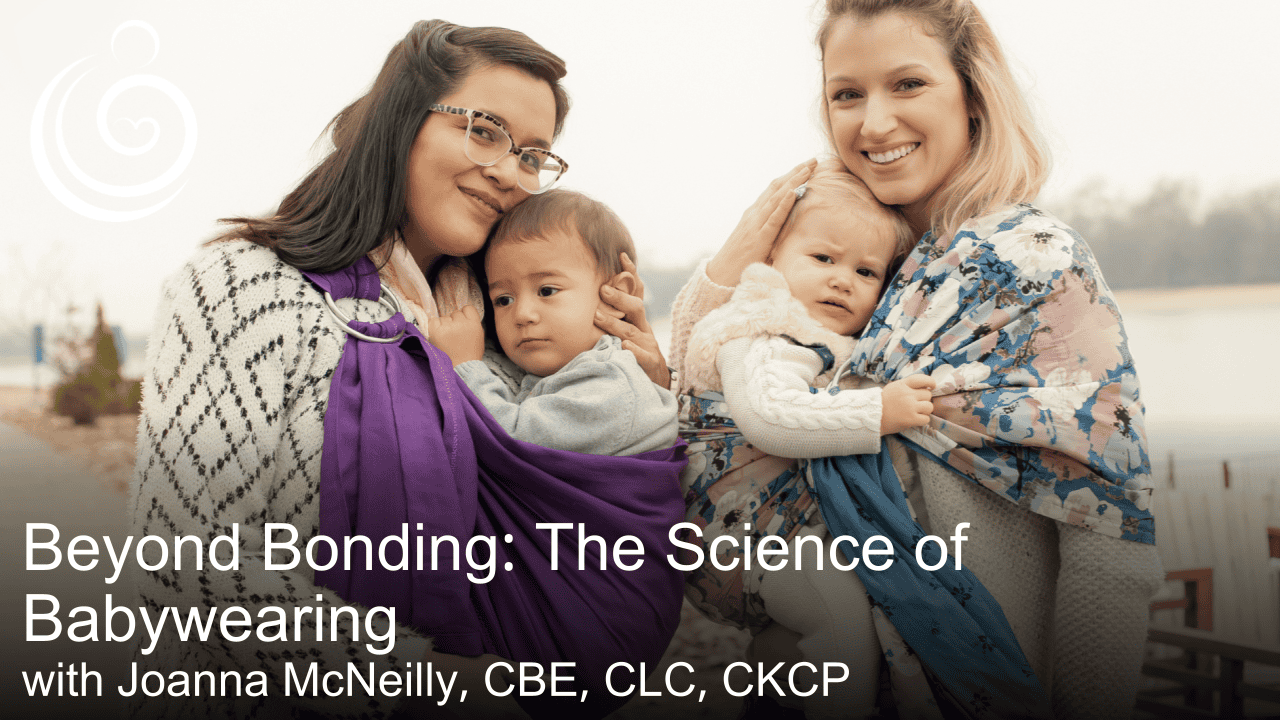 Beyond Bonding: The Science of Babywearing
You know the impact babywearing makes on bonding for the dyad. However, there is so much more to this ancestral and active practice that makes it worth exploring.  Muscle engagement, hip development, social awareness, digestion, sleep management, crying mitigation… just a few things that we will cover during this talk on babywearing. 
We will examine: 
growing evidence base around using baby carriers and extended carrying 

reasons why parents choose or reject babywearing

best positioning for both baby and the caregivers while using a baby carrier

what the research shows us about safety and issue prevention

how you can bring a babywearing-mindset into your work
Come with all your thoughts and questions in hand so we can jump into them during the Q&A for this fun and exciting topic.
Joanna McNeilly, CBE, CLC, CKCP
Joanna McNeilly is the founder of the Center for Babywearing Studies (CBWS.)  She has spent the last 18 years teaching, talking, researching, and training about babywearing. Specifically, she has pushed researchers to make babywearing interventions an active part of their work. She has over 15k hours of hands-on teaching and training experience with families and professionals.  CBWS was built on Joanna's in-house staff training process. She along with Bianca Fehn spent many years as an independent retailer focused on babywearing and natural products for families. The store offered a selection of more than 60 different carriers, hosted 7-10 classes a week, and offered private consultations for their clientele. Leaving retail to pursue a training and consulting business was a natural path for them. 
Joanna is a founding and current board member of the IBCICC (International Board Certified Infant Contact Consultant) initiative, an international NGO to create awareness and acceptance around the infant carrying. She was a founding board member of the BCIA (Baby Carrier Industry Alliance) and served for 10 years as a member of the Executive Committee and as the Chair of the Strategy Committee.
Register for APPPAH Live  To attend this event, please Register to receive the APPPAH Live: Exploring Birth Psychology email notices. This is a free one-time registration and then you will receive weekly emails of our sessions with links to join on zoom for free. The APPPAH Live Library of recordings is available to view anytime for APPPAH members at the premier membership level. Become a member here.
Zoom Link You can use this link to join us live on Zoom on Monday, September 19, 2022