Monday LIVE: Exploring Birth Psychology- Waterbirth with Barbara Harper (replay)
December 13, 2021 @ 12:00 PM

-

1:00 PM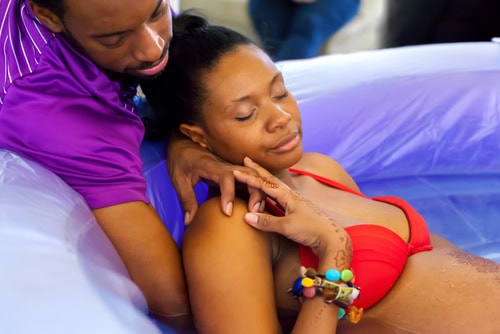 Waterbirth: 40 Years of Observations and Research (Pre-recorded)
Water immersion during labor and birth has increased in worldwide popularity since it was first noted in the Hospital Generale in Pithiviers, France in 1978 and in Russia in the late 1960s. In this session Barbara Harper will share a bit of history and look at the current prevalence of warm water immersion during labor and birth, as well as the impact this gentle birth practice has had on maternity care around the world over the past 40 years. Barbara has assisted hospitals with implementation of waterbirth practice and facilitated professional trainings in 75 countries. Her teaching trips to China began in 2004.  She will share some of her vast experiences around the world. Prospective and retrospective research, and meta-analyses indicate that waterbirth increases relaxation, is desired by women, and is safe for babies.  A brief look at some of the latest studies will also be included.  
Barbara Harper
Barbara Harper is an internationally recognized expert on waterbirth and gentle birth. She founded Waterbirth International in 1988, with one goal in mind – to ensure that waterbirth is an "available option" for all women. She has published dozens of professional articles and interviewed in hundreds of magazines, newspapers and talk shows. Her 2005 bestselling book and DVD, 'Gentle Birth Choices,' has been translated into 9 languages, including a 2016 Mandarin Chinese edition.  During the past four decades Barbara has worked as an obstetric and pediatric nurse, midwife, midwifery instructor, childbirth educator, doula and doula trainer and Blissborn Hypnosis instructor and professional trainer. She has used her vast experience in maternity care to develop unique seminars which she teaches within hospitals, nursing schools, midwifery and medical schools and community groups worldwide.  Covid has required her to teach Waterbirth Certification Courses exclusively online. Prior to Covid Barbara traveled and taught in 75 countries.  She is asked to return for training in hospitals yearly in many countries including China, Argentina, UAE, Israel, Spain, Mexico, Chile, and locations all over the US.  She lives in Boca Raton, Florida, where she is a community volunteer and midwifery and doula mentor.  Her website is:  www.waterbirth.org
Register for Monday LIVE  To attend this event, please Register to receive the Monday LIVE: Exploring Birth Psychology email notices. This is a free one-time registration and then you will receive weekly emails of our Monday LIVE sessions with links to join on zoom for free. The Monday LIVE Library is available to view anytime for APPPAH members at the premier membership level. Become a member here.
Zoom Link  You can use this link to join us live on Zoom on Monday.