Prenatal Sciences Global Congress: Prenatal Sciences, The Human-Earth Connection & Life Sustainability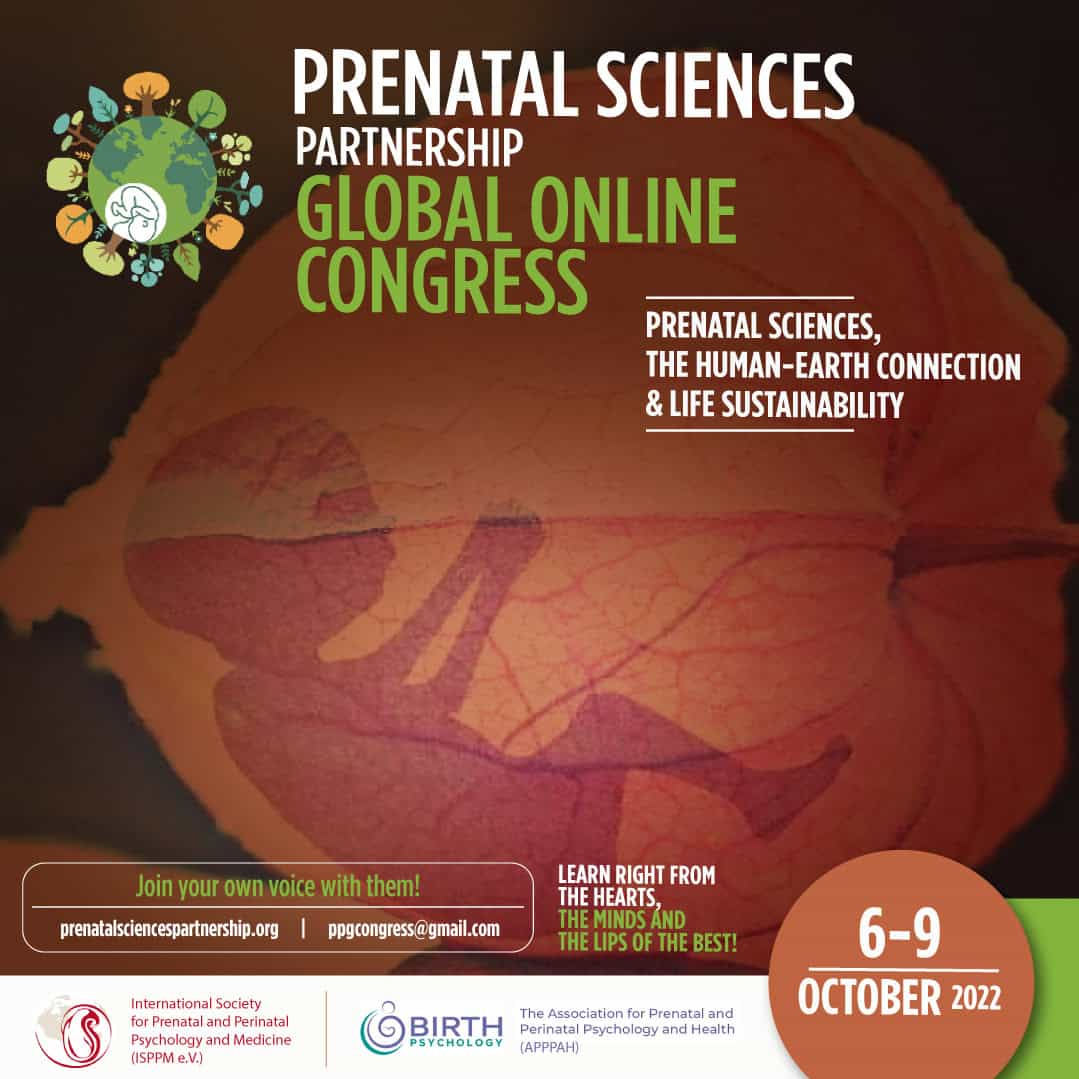 Please join APPPAH at the Prenatal Sciences Global Congress October 6-9, 2022
This international congress includes 126 speakers from all over the world
CO-SUPPORTED BY APPPAH, ISPPM & THE PRENATAL SCIENCES PARTNERSHIP
Don't miss these APPPAH speaker~
Catherine Lightfoot, CPM
Midwives and the Conscious Baby (KINDNESS)
We are poised at a special and powerful time of the birth of a new paradigm- a shift of collective awareness that our babies are conscious and sentient, they are social and communicative, and that they are leading interconnected lives beginning before birth.
Midwives and other birth-keepers are poised at a special and powerful place at the birth of this new paradigm and are a vital key to help inform, inspire and protect the critical, developmental, primary period.
Catherine will provide clear, useful guidelines for how midwives can incorporate the foundations of Birth Psychology into their personal and professional lives; the effects of which will undoubtedly touch all the souls they hold within their hearts and hands.
CATHERINE LIGHTFOOT MARTIN, CPM, PPNE                                                                                                                                                                                                                            Catherine Lightfoot holds a bachelor's degree in Psychology with a focus on Child Development and is a Certified Professional Midwife (CPM) with the North American Registry of Midwives (NARM).
In addition, Catherine is currently the Education Director for the Association of Prenatal and Perinatal Psychology and Health (APPPAH). She has studied with many indigenous teachers across cultures and incorporates ancient world wisdom traditions in her personal and professional life.
Catherine believes that birth is a sacred passage for an emerging conscious being, and mutual respect for all involved is a basic human right. She is most passionate about unveiling awareness of prenatal and perinatal consciousness because peace on Earth begins before birth.
Catherine homesteads in the Missouri Ozarks with her supportive family and can often be found walking barefoot among the wildflowers.
On her website you can read more about her "4 baskets" program
WEBSITE:
https://lightfootbirth.wordpress.com/