Prenatal Sciences Global Congress: Prenatal Sciences, The Human-Earth Connection & Life Sustainability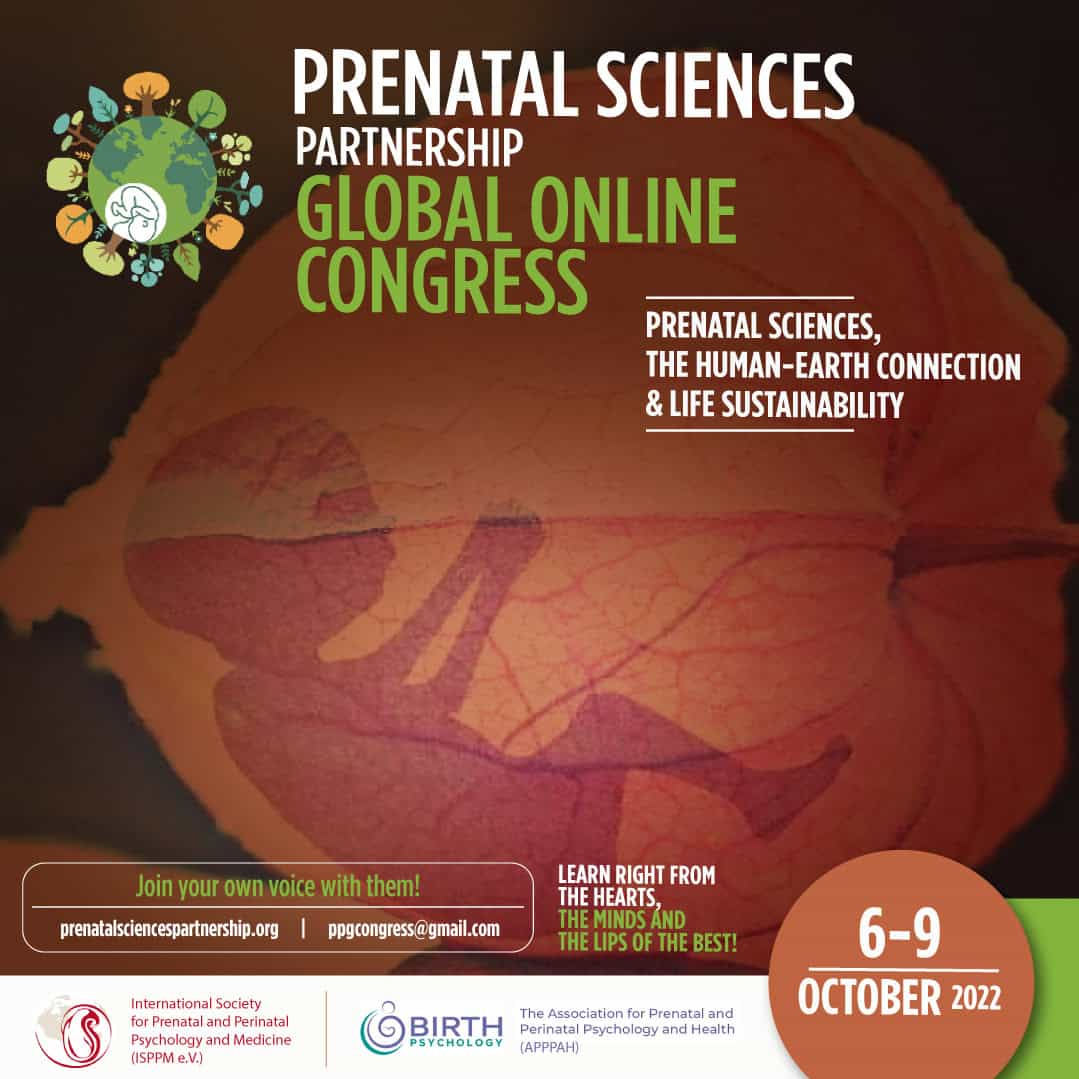 Please join APPPAH at the Prenatal Sciences Global Congress October 6-9, 2022
This international congress includes 126 speakers from all over the world
CO-SUPPORTED BY APPPAH, ISPPM & THE PRENATAL SCIENCES PARTNERSHIP
Susan Highsmith, PhD
Storytelling: A Tool to Enhance Parent-Prenate Bonding 
Research has found that babies in the womb are listening- and remembering what they hear. "The Cat in the Hat" studies conducted in the 1980s are now famous for revealing that newborns like-and prefer-stories they heard while they were in utero!
Storytelling (and "story listening") becomes an extraordinary tool parents can use to bond with their infants in utero. To interweave the tool of storytelling with the infant's experience, I have created a series of fairy tales as metaphors for their earliest journey. "The First Fairy Tales I – IV" present to parents and the Little Ones being carried in the womb metaphors of an ideal beginning. "The Adventure Begins" is a tale of conception; "The Awakening Heart" tells the story of implanting and forming a beating heart' "Making Sense" is all about sensory development as the body matures in the womb; and "Welcome to the Light" greets babies around the world as they are born on this Earth.
These stories are designed to help parents bond with their unborn babies, and to assure the growing fetus that s/he is loved and wanted. The journey they are undertaking is acknowledged and honored. The illustrated tales continue to be enjoyed by children after they are born as parents read the stories to them again and again. If the journey has been challenging, babies can be reassured that they are perfect as a template for healing is imprinted in their developing minds. These stories have the potential to be used to introduce conception, gestation, and birth to youngsters who are learning about their developing bodies. Perhaps they can benefit, as one mother reported to me, from a gentle introduction to the adult capabilities for reproduction. Mothers are sharing how much their children love these stories and are responding with joy as they feel loved, recognized and appreciated. 
SUSAN HIGHSMITH PHD
Susan Highsmith is a counselor and educator who holds a PhD in Prenatal and Perinatal Psychology. She is certified as a National Board Counselor, and as a practitioner of EMDR, PSYCH-K, and EFT. She speaks at international congresses addressing consciousness in the womb and the long-lasting effects of our earliest experiences. She serves on the APPPAH Advisory Board and is a mentor in the APPPAH Prenatal and Perinatal Education Program.
Michael Trout, MA
Supporting Connections Between First Mothers and Their Unborns: An Antidote to Dissociation? 
The old saw in child welfare circles-"A baby is the only living thing without a past only a future"- was always self-serving. Now we know it is patently false. The new science in infant mental health and prenatal psychology allows us to broaden our assessment of risks related to adoption, beginning with the obvious: Birth is not the first moment at which a child about to be placed for adoption may be exposed to harm.
It now seems evident that the first nine months of a child's life–during which he lies inside the body of a person who does not intend to keep him, may be of consequence regarding his present well-being and his developmental and relational future. What if we considered this question non-rhetorically and non- judgmentally:
"How could a woman ever be expected to forget a baby she had carried for nine months?

What would it take to 'move on' from the experience?"(Glaser, 2021, p. 4).

Is it, indeed, disrespectful of the first mother to imagine that she pays no attention to what is happening, and has no psychological response to it?

If she does have a response, is her mental life detected by the prenate?

Are the baby's early and primitive working models of self and others affected?

Might these early working models be brought by the adoptee to his relationship with his adoptive mother?

If so, to what effect?
We suggest that planned adoption may put a birthmother at risk for dissociation – a kind of withdrawal from her own experience–and that such withdrawal may be experienced by the baby as maternal absence and rejection. We will try to show what this experience is like for the unborn, what defenses may be erected, and how such experiences may shape later relationships. Finally, we will consider whether turning the birthmother's attention to the baby inside her, with a guided facilitation, may be helpful in avoiding many of the risks related to dissociation.
Michael Trout, MA
Michael Trout graduated from Alma College (B.A., cum laude, honors in Philosophy) and Central Michigan University (M.A., Psychology), and did his specialized training in infant psychiatry at the Child Development Project, University of Michigan Department of Psychiatry, under Prof. Selma Fraiberg.
In the mental health field since 1968 and in private practice since 1979, Mr. Trout has, since 1986 directed The Infant-Parent Institute, which engaged in research, clinical practice and clinical training related to problems of attachment.
He was the founding president of both the Michigan and the International Associations for Infant Mental Health; was on the charter Editorial Board of the Infant Mental Health Journal; served as regional vice-president for the United States for the World Association for Infant Mental Health; and served on the board of directors (and as editor of the newsletter) for APPPAH — the Association for Pre- & Perinatal Psychology and Health. In 1984 he won the Selma Fraiberg Award for " . . . significant contributions to the needs of infants and their families."
In 2010, he was honored with a Lifetime Achievement Award, for his decades of work with foster and adopted children and their families, at the ATTACh conference in San Francisco.
In addition to publishing a number of book chapters and journal articles, Mr. Trout has produced 16 clinical training videos that are used by universities and clinics around the world, including the six-hour video training series, The Awakening and Growth of the Human: Studies in Infant Mental Health. He has also written and produced five videos focusing on the unique perspective of babies on divorce, adoption, loss, domestic violence and parental incarceration.
He is the co-author (with foster/adoptive mother Lori Thomas) of The Jonathon Letters; the author of Baby Verses: The Narrative Poetry of Infants and Toddlers; the producer of two meditation CD's, including See Me As a Person: Meditations for Sustaining Relationship-Based Care, and The Hope-Filled Parent: Meditations for Parents of Children Who Have Been Harmed; and co-author (with Mary Koloroutis) of the 2012 textbook for healthcare providers, See Me As a Person.  His final book, This Hallowed Ground:  Four Decades in Infant Mental Health was released in 2019 in audiobook format, and donated to the Michigan Association for Infant Mental Health. It is available through the Association at www.miaimh.org.     
For 46 years – 41 of them in the infant mental health specialty–the most important part of Mr. Trout's work was in the hours he spent with individuals and families.  He retired from clinical practice on May 30, 2014, allowing him to turn more of his attention to teaching, writing, and looking into what happened to some of the babies and families he served, many years ago.