Prenatal Sciences Global Congress: Prenatal Sciences, The Human-Earth Connection & Life Sustainability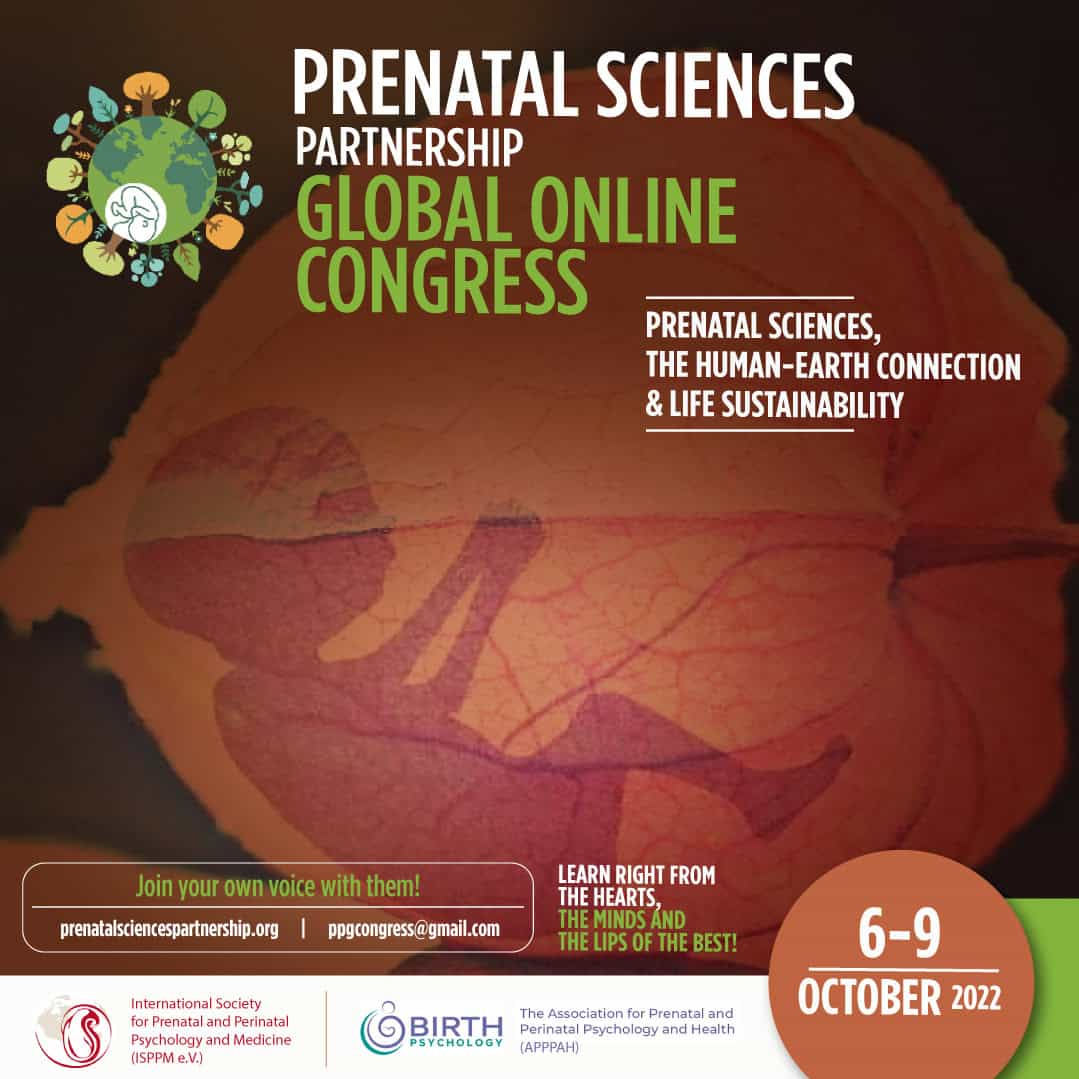 Please join APPPAH at the Prenatal Sciences Global Congress October 6-9, 2022

This international congress includes 126 speakers from all over the world
CO-SUPPORTED BY APPPAH, ISPPM & THE PRENATAL SCIENCES PARTNERSHIP
Don't miss these APPPAH speakers on October 6th:

PTSD and Historical Trauma with Thomas Verny, MD
In this talk I want to expand on the concept of PTSD to include historical trauma (HT), a term coined in the early '80s by Lakota professor of social work, Maria Yellow Horse Brave Heart. What she meant by that term was "the cumulative emotional and psychological wounding over the lifespan and across generations." HT refers to the abuse and displacement of stigmatized groups such as enslaved African Blacks and Native Americans in the USA, Indigenous people in Canada, Aboriginals in Australia, Jewish people under the Nazis in Europe, American POWs in Japanese camps, refugees from Afghanistan, the list is sadly endless. HT becomes embedded in the cultural memory of a people.  Individuals afflicted by HT exhibit enduring and pervasive symptoms of depression, survivor guilt, anger, intense fear, self-destructive behavior including substance abuse, hypervigilance, dissociation, low self-esteem, dreams of being violated, involuntary and intrusive memories of the traumatic event, memory loss for other parts of that event, lack of ability to concentrate, impairment of social functioning, and feelings of detachment or estrangement from others. The children, grandchildren, and subsequent generations of survivors tend to internalize their ancestral suffering and perceive any fun or joyful experience in their present lives as a betrayal of their ancestors' suffering.
THOMAS VERNY, MD, DPsych, FRCPC, FAPA, Psychiatrist, Writer, Academic
Thomas R. Verny is one of the world's leading authorities on the effect of the prenatal and early postnatal environment on personality development. He is a psychiatrist, writer and academic. He has previously taught at Harvard University, University of Toronto, York University, Toronto, St. Mary's University, Minneapolis, Minnesota and the Santa Barbara Graduate Institute. In 1974 Verny wrote his first book, The Secret Life of the Unborn Child  which has become an international bestseller published in 27 countries and has changed the pregnancy and childbirth experience for millions of mothers and fathers. In 1983 Verny founded APPPAH, Association for Prenatal and Perinatal Psychology and Health – in 1995), and served as its president for eight years. In 1986 he launched JOPPPAH,  APPPAH's Journal.  In addition to eight books, Dr. Verny is the author or co-author of 47 scientific papers and articles. He has participated in more than 250 newspaper, radio and TV interviews. He has lectured and given workshops on Prenatal and Perinatal Psychology throughout Canada, the United States, Europe, South America and Southeast Asia.
 
Mental Health Before & After Birth: Why It Matters To Mother, Babies, & Our World with Raylene Phillips, MD
It is well known that the mental health of mothers/parents effects the development of babies after birth, but evidence is growing that the psychological well being and mental health of pregnant mothers effects the development of their babies even before birth. Recent research supports the critical need to ensure that pregnant mothers have adequate nutrition, shelter, safety, and social support for optimal physical, neurological, and emotional development of their unborn babies. This knowledge raises the need to provide early and ongoing support to pregnant mothers to the highest priority. This presentation will highlight new research about the effects of maternal mental health on fetal brain development and describe how knowledge of prenatal and perinatal psychology can be used by perinatal professionals to support healthy pregnancies and to prevent, minimize, and heal perinatal trauma. We will discuss the link between womb ecology and world ecology, will review how application of birth psychology helps to create a more peaceful and compassionate world, and will explore how to share this knowledge with medical professionals who are responsible for supporting the health and well being of pregnant mothers and their babies.

 RAYLENE PHILLIPS, MD, MA, FAAP, FABM, IBCLC
After raising three children as a stay-at-home mother, Dr. Phillips received a master's degree in Developmental Psychology with a focus on mother-infant attachment, became NIDCAP certified as a Preterm Infant Developmental Specialist, and then attended medical school at University of California, Davis.  She completed her pediatric residency and neonatology fellowship at Loma Linda University Children's Hospital in S. California and is an attending neonatologist in the Level 4 NICU at the same hospital. She is an Associate Professor of Pediatrics/Neonatology at Loma Linda University School of Medicine and is Pediatric Department Chair and Medical Director of Neonatal Services at Loma Linda University Medical Center-Murrieta.  Dr. Phillips is an International Board-Certified Lactation Consultant, a Fellow of the Academy of Breastfeeding Medicine, and a past president of the National Perinatal Association (NPA).  She is currently President of APPPAH, Association for Prenatal and Perinatal Psychology and Health, a global non-profit organization with a mission to support healthy infant-parent relationships before and after birth.  Her passion is to honor and nurture the earliest connections between babies and their parents.
Register Here